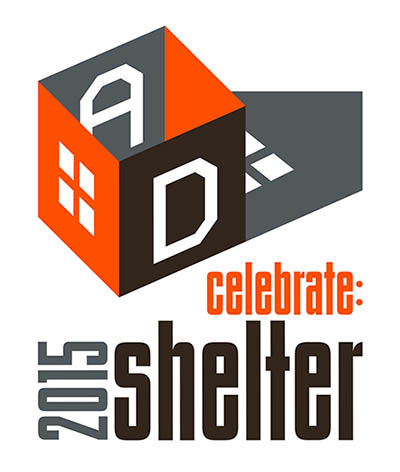 LOS ANGELES' A+D MUSEUM'S GALA FUNDRAISER ON
JUNE 27, 2015 CELEBRATES "SHELTER" THEME
FOR MUSEUM'S RETURN TO DOWNTOWN L.A.
(Los Angeles, CA – May 7, 2015) A+D Architecture and Design Museum>Los Angeles (A+D) is returning to its downtown Los Angeles (DTLA) roots with its 5th annual fundraiser, "CELEBRATE: SHELTER," on June 27, 2015. The gala, which is also A+D's grand reopening, will take place from 7:00 PM through 11:00 PM in A+D's new home at 900 East 4th Street, Los Angeles, CA 90013. This warehouse-turned-museum is in DTLA's burgeoning Arts District, one block from the Southern California Institute of Architecture (SCI-Arc), and located amidst galleries, design studios, restaurants, and cutting-edge retail stores.
The centerpiece of the evening will be a silent auction of custom designed "shelters" created by architecture and design luminaries, installed exhibit-style in the new space. "Shelter celebrates the belief that a well-designed habitat creatively and functionally expresses its relationship to site, neighbor, and occupant," says Tibbie Dunbar, A+D's Executive Director. "The 2015 CELEBRATE theme resonates as A+D returns to a downtown that has grown dramatically and is quite different from when we headed west about 12 years ago," she added.
All pieces are donated and will be auctioned that evening, with 100% of the proceeds benefiting the Museum. Guests will be treated to premier cuisine, cocktails, music, and much more while bidding on one-of-a-kind works and on-theme items to grace and invigorate their own shelters. Emcee and actor Boise Thomas will return as the evening's host.
The image is a collage-sketch of Office of Mobile Design's entry for the 2015 Celebrate:Shelter exhibit at the A+D Museum.
Title: Generation Barbie Pop-Up

Reviving the 1973 Barbie Goin' Camping set with Breezy Buggy tent trailer, able to wander from urban to suburban venues and isolated places in between, OMD proposes a mobile modular vehicle able to transform to a fully equipped dwelling and event space. The iconic Barbie figure, represented here as an architect, has always imbued a nomadic persona and propensity for adventure. OMD's Barbie Pop-Up symbolizes a 21st century notion of freedom and play.
A+D's annual CELEBRATE gala draws over 700 people annually. The roster of architecture and design contributors in years past includes Zaha Hadid, Morphosis, Jonathan Adler, Tadao Ando, James Perse, John Baldessari, BMW Designworks, Steven Ehrlich, Fitzsu, Chadwick Studio, David Hertz, Escalante Architects, Chip Kidd, l.a. Eyeworks, Marmol Radziner, Richard Meier, Minarc, Karim Rashid, Trina Turk, and more.
Established in response to the need for a space that would be devoted expressly to the exhibition of progressive architecture and design, A+D Museum opened its doors in Los Angeles in January 2001 in the landmark Bradbury Building. A+D continues to be the country's primary architecture and design institution, offering continuous exhibits, as well as special events, panels, and programs for families and children.
Says Dunbar, "In our new DTLA space we hope to see even more A+D members and friends as we raise crucial funds for the amazing exhibits, installations, and programs that are planned for the year ahead."
For more information about prior CELEBRATE artists and sponsors, including videos from previous galas, visit
http://aplusd.org/celebrate
. For additional information about the A+D Museum, its programs, and the Gala, please visit
www.aplusd.org
or contact Heather Patton at
hpatton@aplusd.org
or 323- 932-9393. A+D is a non-profit, 501(c)3 organization.
For the design experience through the eyes of A+D Architecture and Design Museum>Los Angeles story, please click
http://aplusd.org/ad-video-3min
To purchase tickets please visit

http://aplusd.org/celebrate-2015



For map and location click

Here!