Tomorrows Bad Seeds, Anuhea, Fortunate Youth, Ital Vibes
and Iya Terra Added to 5th Annual Shoreline Jam Lineup
Spend Labor Day Weekend on the Waterfront with Matisyahu and The Green
LONG BEACH, Calif., (June 23, 2015) –
The Queen Mary
is pleased to announce the addition of Tomorrows Bad Seeds, Anuhea, Fortunate Youth, Ital Vibes and Iya Terra to the lineup for the 5th annual Shoreline Jam Festival September 5-6 at the Waterfront Event Park.
Matisyahu
is set to headline the Labor Day weekend festival on Saturday, September 5 and
The Green
will close out the stage on Sunday, September 6.
Tomorrows Bad Seeds
, "leaders of the new school" is a five piece American band from Hermosa Beach. Their Southern California influences helped yield their unparalleled sound; A perfect mix of rock-pop, punk-reggae and hip-hop. Their live show provides a high-energy performance that will have you craving more. Since the band's inception, they have shared the stage with the likes of UB40, 311, Pennywise, Smashing Pumpkins, The Wailers, and Fishbone, to name a few.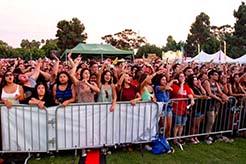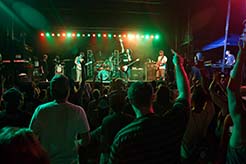 Hawaiian born singer, guitar player and songwriter,
Anuhea
, blends pop and reggae with conscious lyrics to create a style all her own. Her second album "For Love" was released on iTunes on Valentines Day 2012. Amidst the Grammy's and the Whitney Houston passing, "For Love" still managed to hit the #20 spot on the ultra-competitive Pop Charts on iTunes. With five radio singles in rotation in Hawaii, it quickly became the #1 album in the islands. Anuhea has performed with the likes of star artists including SOJA, Cas Haley, Jack Johnson, Ziggy Marley, Taj Mahal and Jake Shimabukuro at the 2010 Kokua Festival in Honolulu, HI.
Fortunate Youth
is a collaboration of South Bay reggae stand-outs. Rising from various bands, they've created a phenomenal 6-piece masterpiece bringing fire to the stage, combining rootsy vibes and unique bass lines united with multiple harmonies, boisterous guitar solos, and heavy keys. Their 2013 release, "It's All A Jam", hit numerous charts including #1 on Billboard Reggae Charts, #10 Billboard Pacific Heatseekers Chart, #23 Billboard National Heatseeker Chart along with #1 on iTunes Reggae Charts and #46 iTunes Overall Charts.
The September 5-6 Shoreline Jam artist lineup follows with more bands still to be announced. General admission two-day Shoreline Jam passes are just $85 in advance. Two-day VIP packages are available for just $180 in advance and include VIP entrance, access to an exclusive VIP lounge, 2 drink tickets per ticket holder and free access to the Queen Mary ship on the days of the concerts. For more information and to purchase tickets visit
http://queenmary.com/shoreline
.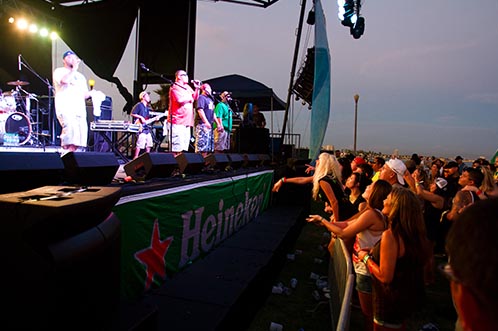 Saturday, September 5
Matisyahu
The Grouch & Eligh
Tomorrows Bad Seeds
Seedless
Kimie Miner
Brewfish
Iya Terra
Sunday, September 6
The Green
Stick Figure
Shwayze
Anuhea
Fortunate Youth
Bad Apples
Ital Vibes
About the Queen Mary
Located in the Port of Long Beach, the Queen Mary features a rich maritime history, authentic Art Deco décor, and stunning views of the Pacific Ocean and Long Beach city skyline. At the time of her maiden voyage in May of 1936, she was considered the grandest ocean liner ever built. The Queen Mary's signature restaurants include the award-winning Sir Winston's and Chelsea Chowder House & Bar as well as a weekly Champagne Sunday Brunch served in the ship's Grand Salon. History buffs enjoy the ship's museum and Glory Days tour, guests of all ages love the Ghosts and Legends show, and the ship is currently featuring the renowned Diana: Legacy of a Princess exhibit and Tea Room. The Queen Mary features 80,000 square feet of event space in 17 remarkable Art Deco salons as well as a tri-level, 45,000-square-foot Exhibit Hall. The Queen Mary boasts 346 staterooms including nine full suites. For more information or for reservations, see
www.queenmary.com
or call
(800) 437-2934
. The Queen Mary is located at 1126 Queens Highway in Long Beach.
For more information or to purchase tickets
please visit

http://queenmary.com/shoreline



For map and location click

Here!