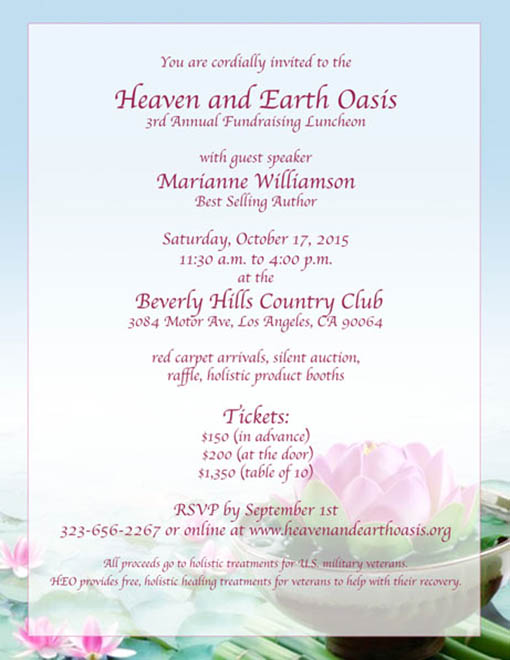 U.S. Military Veterans Receive Holistic Healing Help
through LA Fundraiser on October 17, 2015
with special guest speaker Marianne Williamson
The nonprofit Heaven and Earth Oasis holds 3rd annual fundraiser
for U.S. vets returning with PTSD
to receive free, customized holistic healing treatments
WHO:
Heaven and Earth Oasis, a Los Angeles-based nonprofit 501 (c) (3) founded by Valerie Heath, holistic and alternative therapy specialist
WHAT:
"Energize the Vets" fundraising luncheon with guest speaker
Marianne Williamson
, internationally acclaimed author and lecturer. Red carpet arrivals, silent auction, raffle, holistic products.
Purpose:
proceeds go to providing free holistic and alternative recovery services to veterans traumatized by war.
WHEN:
Saturday, October 17, 2015 11:30 A.M to 4:00 P.M.
WHERE:
Beverly Hills Country Club 3084 Motor Ave., Los Angeles, CA 90064
COST:
$150/each in advance; $200 at the door; $1,350/table of 10
Donations accepted at
www.HeavenandEarthOasis.org
WHY:
American military veterans return from war zones with physical, mental, emotional illnesses including post-traumatic stress syndrome (PTSD). Currently, there is a wait to receive treatment at the Veteran's Administration Hospital (VA). Heaven and Earth Oasis, a nonprofit 501 (c) (3), was formed in Los Angeles to address the widespread need for immediate help by offering a peaceful, safe, holistic healing space and multiple, effective alternative treatments with top professionals provided free of charge to veterans via donations. Alternative healing methods are recognized and used by the VA as a protocol for treating numerous health issues.
Heaven and Earth Oasis is having success in restoring energy, recovery and other trauma-related issues with an array of alternative treatments. The U.S. Army studied the effectiveness of complementary therapies in 2007 that are also employed by Heaven and Earth Oasis. These include reiki that has been found to be effective in treating hyper-arousal, anxiety, panic and tension induced physical pain.The program was so successful that U.S. Army Chief of Staff Gen. George Casey said it should be replicated throughout the military. "I worked with military and veteran groups for 20 years," said Founder/President Valerie Heath. "I became aware that veterans need the most help to heal physically and emotionally, and I was gripped by a determination to do something for them."
FOR MORE INFO:
visit
www.heavenandearthoasis.org
Heaven and Earth Oasis provides a complete array of customized holistic healing treatments by certified therapists free of charge to veterans to help with their recovery.
For more information or to purchase tickets
please visit

www.heavenandearthoasis.org



For map and location click

Here!