GRAMMY-WINNING VOCALIST PEABO BRYSON TO
PERFORM AT "HONDA EVENING UNDER THE STARS"
29th ANNUAL GOURMET FOOD & WINE FESTIVAL BENEFITING TORRANCE MEMORIAL MEDICAL CENTER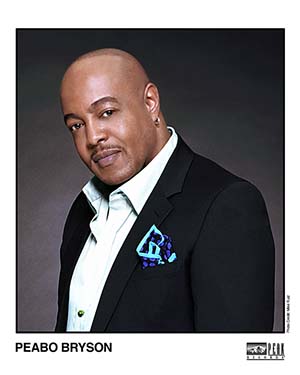 TORRANCE, CA, July 10, 2015
– Grammy Award-winning vocalist Peabo Bryson will serenade guests at the upcoming "Honda Evening Under the Stars" 29th Annual Gourmet Food & Wine Festival. The long-standing South Bay tradition will offer an enchanting evening of the South Bay's best cuisine and more than 80 varietals of wine, all for the purpose of raising funds for non-profit Torrance Memorial Medical Center. The event takes place Saturday, August 1, 2015 at American Honda's Torrance campus.
With 20 albums to his credit, Bryson became the first artist in music history to have separate records topping four different charts. Two songs for Disney animated films earned Bryson two Grammys. The first was 1991's "Beauty and the Beast" with international pop singer Celine Dion, which was a number one pop hit. In 1992, he received another Grammy for "A Whole New World (Aladdin's Theme)" from Aladdin, which he performed with Regina Belle. Both songs won Oscars for "Best Song."
This marks the tenth consecutive year Honda has chosen Torrance Memorial as beneficiary of Evening Under the Stars. In that time, the event has raised more than $1 million for Torrance Memorial. Last year nearly 1,000 community members attended, with $130,000 of the evening's proceeds donated to Torrance Memorial.
"We are grateful for Honda's continued commitment to this signature summer event that enables guests to satisfy their appetites for top-notch cuisine, as well as support a cause that serves the health of so many here in our community," said Laura Schenasi, executive vice president, Torrance Memorial Foundation. "The donations from this event are visible every day to our patients and staff who are treated and work in our new Lundquist Tower."
The Festival, presented in partnership with the Torrance Area Chamber of Commerce, will take place from 6 p.m. to 9:30 p.m. Tickets are $150 per person, $250 per pair or $4,000 for table sponsors (10 guests per table). They can be purchased by calling the Torrance Memorial Foundation at 310-517-4703, the Chamber at 310-543-3113, or by visiting
www.TorranceMemorial.org
.
"Evening Under the Stars is Honda's way of bringing the community together in a spirit of friendship to help a worthy cause," said Steve Morikawa, vice president, Corporate Image & Citizenship, American Honda Motor Co., Inc. "Honda and Torrance Memorial serve the same goal of making the South Bay community a better place to live."
This marks the tenth consecutive year Honda has chosen Torrance Memorial as the event's beneficiary. In that time, Evening Under the Stars has raised more than one million dollars for Torrance Memorial. Last year nearly 1,000 community members attended, with $130,000 of the evening's proceeds donated to Torrance Memorial.
To date, the following restaurants and beverage partners will be offering their fare and tastings at the Festival:
• Alpine Village
• Depot/Buffalo Fire Department
• Disneyland Resort
• Doubletree by Hilton Torrance-South Bay
• Fleming's Prime Steakhouse & Wine Bar
• Fresh Brothers
• Gourmet Grindz & The Good Cookies & Beyond
• Hey 19
• Honda Classic/PGA Tour Professional Wines
• ISE-SHIMA at Miyako Hybrid Hotel
• Il Fornaio
• Island Eats Hale Aina
• Kincaid's
• Nothing Bundt Cakes
• Ortega 120
• Paul Martin's American Grill
• Red Car Brewery & Restaurant
• Rock'n Fish Manhattan Beach
• Shade Hotel
• Smart & Final
• Sodexo
• Sushi Chef Institute
• The Strand House
• Torrance Marriott Redondo Beach
Professional sommeliers from The Disneyland Resort will be on hand to educate guests about wine. For an up-to-date list of participating restaurants, entertainment details and other event information, visit the Festival's Facebook page at
www.facebook.com/eveningunderthestars
.
As part of the event's festivities, guests will have the opportunity to participate in a silent auction for exclusive items and experiences, including entertainment packages, sporting events and memorabilia, dining, travel, local outings and specialty items.
American Honda created the Gourmet Food & Wine Festival in partnership with the Torrance Area Chamber of Commerce in 1987 as a way to bring corporate business, residents, and local commerce together with city officials for a relaxing community celebration.
About Torrance Memorial Medical Center
Founded in 1925 by Jared Sydney and Helena Childs Torrance, Torrance Memorial Medical Center is a locally governed, 446-bed, nonprofit medical center established to provide quality healthcare services, predominantly to the residents of the South Bay, Peninsula and Harbor communities. Torrance Memorial seeks to offer the most current and effective medical technologies rendered in a compassionate, caring manner. In 2012, it joined the ranks of the top hospitals in the nation by earning coveted Magnet® recognition from the American Nurses Credentialing Center, which recognizes nursing excellence. Torrance Memorial has also been ranked as one of the best hospitals for 2014-15 in California and the Los Angeles metro area for the third year straight by U.S. News & World Report, placing the hospital in the top 6 percent in the state. The report recognized Torrance Memorial for providing high performing and quality care in seven specialty areas: diabetes/endocrinology, gastroenterology/GI surgery, geriatrics, gynecology, nephrology, orthopedics and urology. For more information please visit:
www.TorranceMemorial.org
.
About American Honda
Honda is one of the world's leading producers of mobility products including its diverse line-up of automobiles, motorcycles and ATVs, power products, and marine engines. More than 90 percent of Honda and Acura vehicles sold in the U.S. are produced in North America, using global and domestically sourced parts. Honda is committed to supporting the communities where we work and live. Through a broad range of community initiatives, charitable giving, foundation grants, and volunteerism, Honda seeks to create value for society and bring joy to people's lives.
For more information or to purchase tickets
please visit

www.TorranceMemorial.org



For map and location click

Here!