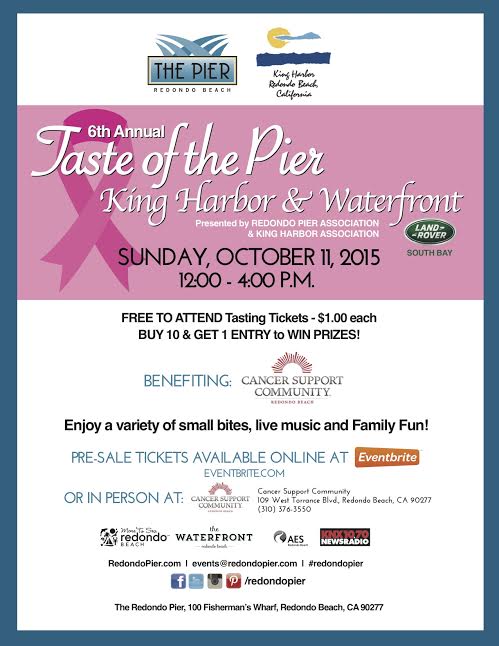 RSVP on Eventbrite and receive one complimentary tasting ticket!



A portion of the proceeds will be donated to Cancer Support Community.

6th ANNUAL TASTE OF THE PIER, KING HARBOR & WATERFRONT
Benefiting Cancer Support Community
WHO:
Redondo Pier and King Harbor Associations
WHAT:
The Redondo Pier and King Harbor Associations are pleased to announce the 6th Annual Taste of The Pier, King Harbor & Waterfront. The event will include restaurants along the entire Redondo Beach waterfront and includes over 50 restaurants and shops. Visitors can enjoy a variety of small bites, live music and family fun while touring the pier, international boardwalk, and marinas throughout King Harbor during this event. Each restaurant will feature a different menu item and non-food retailers will offer other discounts and items in support of the Cancer Support Community Redondo Beach in honor of Breast Cancer Awareness Month.
WHEN:
Sunday, October 11, 2015
TIME:
12:00 – 4:00 P.M.
WHERE:
Redondo Beach Pier, 100 Fisherman's Wharf, Redondo Beach, CA 90277
TICKETS:
Free to attend
Tasting Tickets - $1.00 each
Receive one entry to win pier prize giveaways when you purchase 10 tickets
MUSIC:
Smokin' Smitty & The Masters of Music (funk band at the "Octagon" below Kincaid's)
SPONSORS:
South Bay Land Rover, The Waterfront
INFO:
Tasting tickets are universal and can be used at any participating pier business on October 11, 2015, 12:00 – 4:00 p.m.. Tickets are available for purchase at event or in advance at Cancer Support Community.
ABOUT:
Taste of the Pier, King Harbor and Waterfront was created to introduce the variety of restaurants and shops located on the Redondo Beach Pier, International Boardwalk and King Harbor. Event proceeds will benefit Cancer Support Community.
For more information or to purchase
tickets please visit

www.Evenbrite.com



For map and location click

Here