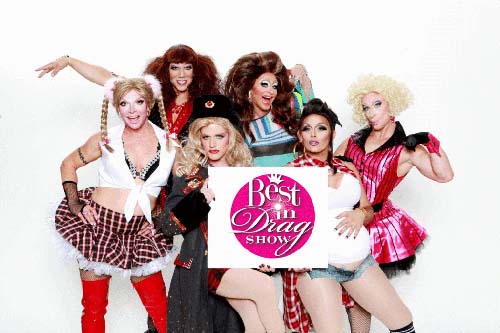 The Alliance for Housing and Healing Presents a Fun Filled Evening
for a Cause with the Return of Best in Drag on
October 4, 2015 at the Orpheum Theatre
The Alliance for Housing and Healing, a nonprofit dedicated to preventing homelessness and hunger for men, women and families living with HIV/AIDS throughout Los Angeles County, will hold their annual Best in Drag Show at Los Angeles' famed Orpheum Theatre on October 4. The highly anticipated beauty pageant spoof is filled with fun and comedy while keeping the focus on its cause—giving back to the community through fundraising.
This year's event will begin with a pre-show at 5:30 PM, with the curtain being raised at 7:00 PM. The celebrity judging panel will include Dot Jones (Emmy nominee for "Glee") Kathy Kinney, ("Drew Carey Show," "Secret Life of An American Teenager") Wendie Malick, ("Just Shoot Me," "Hot in Cleveland") and Wendi McLendon-Covey ("The Goldbergs," "Bridesmaids") to name a few.
Originally founded in 1989 by Alexis Pittman with a small group of friends in his West Hollywood living room, the Best in Drag Show, then called Battle for the Tiara, came to fruition. The first event raised $400, collected from 20 people, but due to its increasing popularity, the show was moved to subsequently larger venues. The current version of the show has run since 2003 and has raised over $3 million to support the work of Alliance for Housing and Healing's flagship program, Aid for AIDS. Alliance for Housing and Healing sees housing as a structural intervention against the spread of AIDS and as a platform for healthcare, and they are passionate about providing a broad continuum of high-quality care to those living with HIV/AIDS that reinforces residential stability.
"This event allows us to provide the basic necessities of life - food and shelter - to more than 1,300 people a year throughout Los Angeles County, says Terry Goddard II, Executive Director.
Whether a group residence with 24/7 care for those who are too ill to live on their own, safe subsidized apartments for individuals and families with a second diagnosis, or emergency financial assistance to pay rent and utility bills for those who are facing eviction and homelessness, Alliance is dedicated to improving outcomes for low-income persons living with HIV/AIDS in Los Angeles County. "Holding the Best in Drag Show is our opportunity to educate and entertain while raising money for something so crucial" say Goddard.
The year's event will include contestants Miss Alaska Ivana Kutchakokoff (Spencer Ramirez), Miss California Maria Lopez (Jason De Puy), Miss Florida Joy Vey (Harrison Bloom), Miss Illinois Pepper Spray (Peter Korth), Miss Louisiana Britney Shears (Paul Wintner) and Miss Nevada Lucky Dyce(Jimmie Smith).
"My favorite night of the year. I've never felt more love in one room" says returning judge Dot Jones
Produced by an army of extraordinarily talented volunteers and staff from Alliance for Housing and Healing, the fundraising show would not be possible without
Show Director and Producer Jeffrey Drew and Master of Ceremonies Patrick Rush
, and generous support from its sponsors including Presenting Sponsors Dr. Mark Honzel and Klean Treatment Centers, as well as Craig Fisse and Michael Patrick King, Barbara Jacobs Events, Kraut Law Group and the Orpheum Theatre.
The Patrick Rush Service Award, established in 2010 in honor of Patrick who has tirelessly demonstrated his heartfelt dedication to the mission of Alliance for Housing and Healing, will receive an award at the show. The award recognizes the love and dedication that Patrick has poured into the Best in Drag Show, by removing the financial barrier for qualified students who demonstrate the drive and determination to reach their education goals, despite the challenges that are presented by a positive HIV status and ongoing addiction recovery.
For tickets and more information, please visit
www.bestindragshow.org.
For map and location click
Here