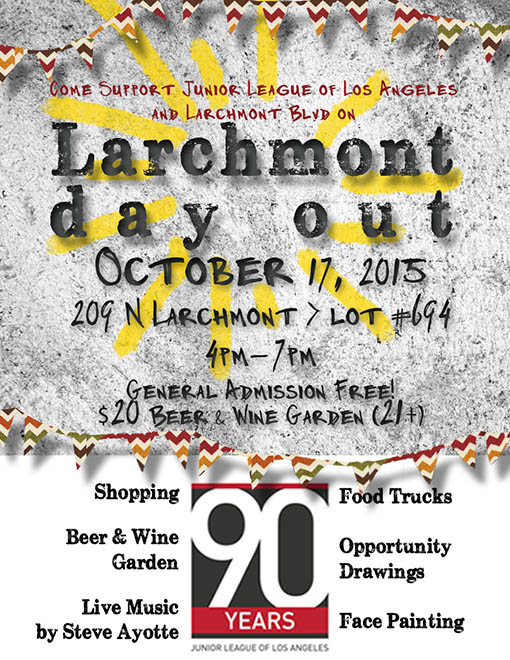 The Junior League of Los Angeles Celebrates Local Larchmont Neighborhood
LOS ANGELES,CA (October 3, 2015)
Bring your friends and family to Larchmont Day Out on Saturday, October 17, supporting our local Larchmont Boulevard shops and the Junior League of Los Angeles! From 4-7pm, the event will feature live music by Steve Ayotte, a beer and wine garden, food trucks, prizes, shopping, and more. The Junior League of Los Angeles will highlight our community partner, Daybreak Women's Center, and the "Women Empowerment" program. The program's curriculum helps to inspire and motivate the women at the Center to succeed in their personal lives by teaching life skills and tools that foster confidence and inspire change.
Located at 209 North Larchmont, lot# 694, general admission to Larchmont Day Out is free of charge. The beer and wine garden is $20/person. Tickets are available online or at the event. Attendees must be 21+ to enter. To purchase tickets in advance please visit:
https://www.jlla.org/?nd=p_event_detail&event_id=5101
.
About the Junior League of Los Angeles
Established in 1926, the Junior League of Los Angeles (JLLA) has been the driving force behind the kinds of initiatives and institutions that make our community a healthier, more vital place to live. Throughout its history, JLLA has developed, supported and launched more than 100 projects into the community -- making a measurable, positive impact on the welfare of greater Los Angeles children and their families. More than 2,500 kids were impacted by JLLA programs during its 2012-2013 year alone.
The Junior League of Los Angeles is a 501(c) 3 nonprofit volunteer organization, and is a member of the Association of Junior Leagues International (AJLI). The JLLA is now one of over 293 Junior Leagues throughout the United States, Mexico, Canada, and Great Britain. AJLI's member leagues encompass over 155,000 members worldwide.
About Daybreak Women's Center
Founded in 1987, Daybreak is the only program on the Westside designed for homeless women suffering from long-term debilitating mental illness. Daybreak addresses the basic needs of mentally ill women facing homelessness and poverty by providing a safe and accepting environment where they can find dignity, support, and access to information and resources needed to stabilize their lives and move into permanent housing.
For tickets and more information, please visit


https://www.jlla.org/?nd=p_event_detail&event_id=5101