Free art exhibit and all-ages concert at Amoeba Music to launch
first public art initiative from Sunset & Vine District
Hollywood streetscape project honors area's musical legacy;
Los Angeles bands are featured in new utility box
art designed by local artist Paige Emery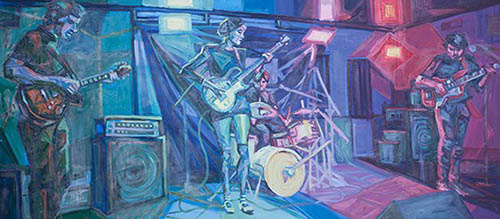 WHAT:
Local up-and-coming bands are being featured in new utility box art in the area along Sunset Boulevard and Vine Street. The art initiative will launch with a free concert and art show at Amoeba Music in Hollywood.
Initially aimed to transform common utility boxes into visually attractive displays of art, the project has evolved into a greater symbol of neighborhood identity and community representation.
The Sunset & Vine District, in partnership with the Do Art Foundation, selected local artist Paige Emery through an extensive application process. Emery was chosen based on her ability to capture the neighborhood's unique creative spirit and authentic vibe.
The project culminated in 10 original public artworks that will be on display on utility boxes for a year. Bands Night Beats, Fever the Ghost, FEELS, Drinking Flowers, Cosmonauts, Winter, Triptides, The Molochs, HOTT MT and Froth are featured in the art.
WHO:

Local visual artist Paige Emery
Performances by bands featured in the artwork:
Drinking Flowers
Winter
WHERE:
Amoeba Music, 6400 Sunset Blvd, Los Angeles, CA 90028
(323) 245-6400,
www.amoeba.com
WHEN:

March 9, 2016
The original paintings will be exhibited from 10:30 a.m. to 9 p.m.
Free concert begins at 6 p.m.
FOR MORE INFORMATION:
Get high resolution images of the art, download a map to see the installations, and listen to music from the featured bands at
http://onlyinhollywood.org/public-art-in-the-sunset-vine-district/
ABOUT:
The Central Hollywood Coalition, the non-profit board that manages the Sunset & Vine Business Improvement District, funds streetscape beautification, street cleaning services, security program and homeless outreach in the area.
For map and location click

Here