I can't describe how much we enjoyed dining at Duke's in Malibu. The ambience,
the spectacular ocean view, the service, and the amazing food made our dining experience unforgettable!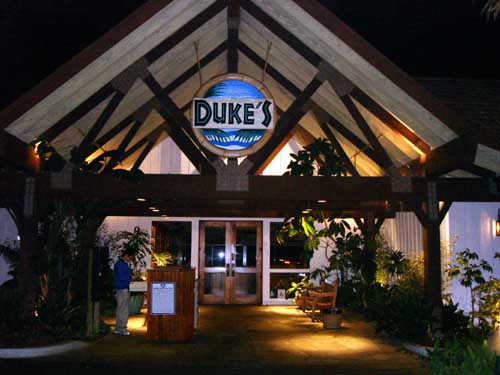 The restaurant has an impeccable and professional service, along with a very relaxed atmosphere, and the food is fresh, delicious and tasty. If you like fish, seafood, steak and salads, then this is the place to go.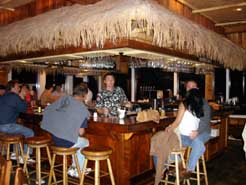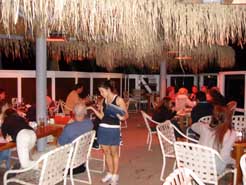 Barefoot Bar Outdoor Pario
Before I start, I must tell you about the Fish Factor: I must admit that I love fish,
it is not only good for you, but The American Heart Association recommends
eating fish (particularly fatty fish) at least two times a week. Fish is a good source
of protein and doesn't have the high saturated fat that fatty meat products do.
Fatty fish like mackerel, lake trout, herring, sardines, albacore tuna and salmon
are high in two kinds of omega-3 fatty acids, eicosapentaenoic acid (EPA) and docosahexaenoic acid (DHA).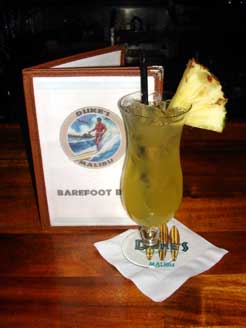 Lava Flow Hawaiian Iced Tea
Meals are complimented by an extensive wine selection, local microbrews and innovative tropical cocktails. Plan a memorable meal at Dukes. You will find their staff of friendly professionals to be very knowledgeable about the food offerings, wines from around the globe, and Malibu's happenings. The dining room is beautiful and the ocean view will certainly be a factor to open your appetite.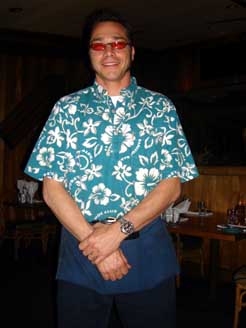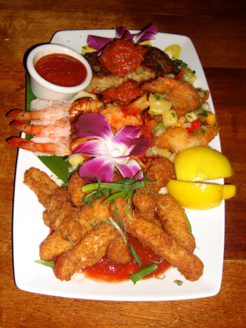 Our waiter Robert Hood Speacial Appetizer Platter
From the classic fish & chips to live crab, lobster, pit-smoked salmon and Dukes famous crab cakes, Dukes extensive menu features superlative seafood. Duke's Seafood offers both tourists and locals a rich experience of the best seafood in Malibu.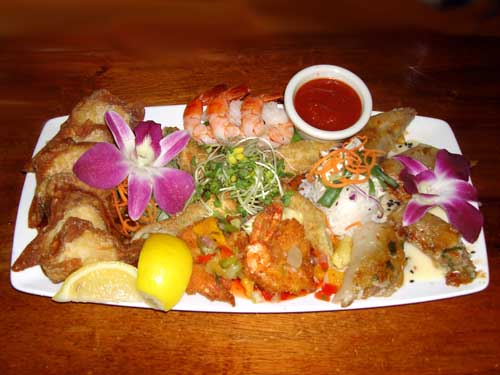 Special Appetizer Platter #2
This is one more reason that you should go to Dukes, we started with an spectacular selection of appetizers; we had:
Crab and MacNut wontons with crab meat
cream cheese; macadamia nuts, mustard and plum sauce, that one was very crispy and delicious, the poke rolls; with raw ahi, maui onions, all sautéed in rice paper, a Hawaii's favorite! The Panko Crusted Calamari; made with calamari strips in guava cocktail sauce. One of the best calamaris we have had in a long time. Also the Spicy Sugar Cane Shrimp, very good as well, along with the Shrimp Cocktail in guava cocktail dip, which was very authentic. Then finally we had the Chicken Spring Rolls and the Kawika's Crab Cakes, a must have!
These appetizers were truly fantastic look and absolutely delicious!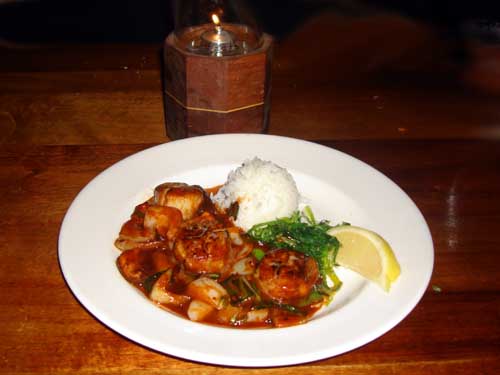 Chilli Garlic Scallops
Now talking about dinner, we had such a great experience that I will definitely return for more.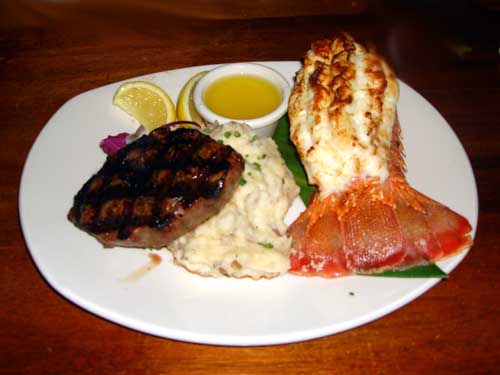 Prime Sirloin and Lobster tail
Chef Eric Rau did an amazing job with the food preparation and our waiter Robert Hood was superb in terms of advising us of what to eat and order. We were guided by Robert who kindly suggest that we started with a delicious Fisherman's Chowder and the famous Hearts of Palm and Papaya salad –
Great items for starters!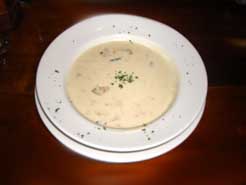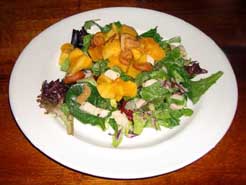 Fisherman's Clam Chowder Hearts of Palm and Papaya salad
Then we had an amazing selection of fishes:
Starting with the chef's recommended Chili Garlic Scallops; Fresh jumbo sea scallops, seasonal vegetables, shiitake mushrooms, in a delicious spicy chile sauce, that was a not to be missed kinda dish that I will order it again.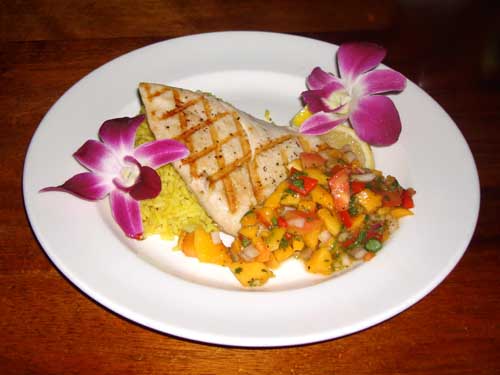 Opaka Paka white flaky pink snapper grilled at Island style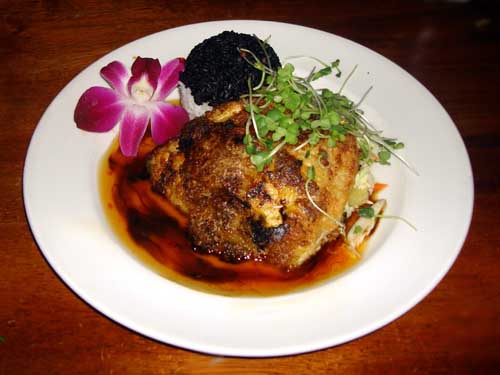 Sea Bass with lemon grass over pineapple slaw
The Australian Lobster Tail was one of the best we ever had, very moist and a delicious soft meat that made to perfection and it was a very nice size as well.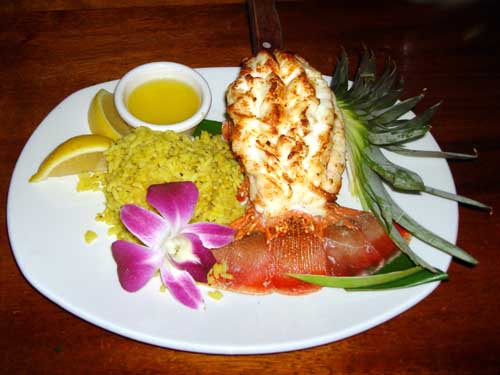 Australian Lobster Tail
The Prime Sirloin and Lobster tail was also a dish not be missed, the meat was superb and done to perfection, the fishes are prepared in different ways, we had the Sea Bass, which was the special of the night prepared with a superb sweet and sour lilikoi, seared with lemon grass over pineapple slaw, passion fruit sweet and sour sauce, and the Opaka Paka white flaky pink snapper grilled at Island style.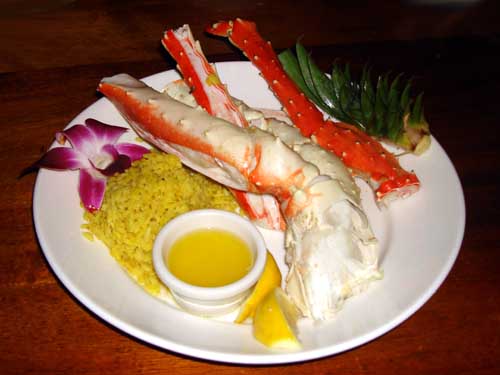 King Crab Legs (only on request)
And finally to complete our Gran Finale, we were served this special suculent, brilliant, and huge dessert called: Kimo's Original Hula Pie... do I need to say more, take a look and imagine yourself tasting this delicious dessert after dinner... The is what the sailors swam to shore for in Lahaina!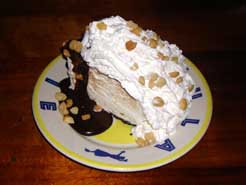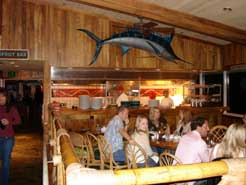 Kimos Original Hula Pie Dining area with chefs in background
I recommend dining a Dukes, I assure you'll leave remembering the exquisite dining experience that this great place inspires. The extensive menu is both reassuring & unexpected. Dukes commitment to you is unsurpassed. And the view is simply breathtaking. Ah… also don't forget to try their spectacular Sunday Brunch buffet!
For map and location click here.
For more information please visit their website at
www.dukesmalibu.com