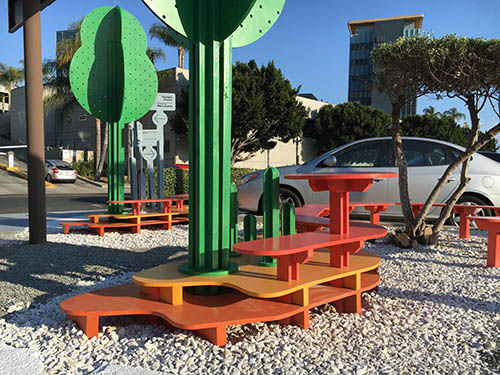 Hollywood Pop-Up Park to Open May 20


Hollywood Pop!, a semi-permanent pop-up park, to open with a
neighborhood event; park is a pilot demonstration project intended
to explore the future of public space in Hollywood.
WHAT:
Hollywood Pop!, a new pop-up park opening at the corner of Selma and Ivar, answers a need for more public space in the heart of Hollywood. The park will feature colorful cartoon-like furniture pieces and amenities like seating, tables, landscaping, shade and wayfinding signage. Activating a previously vacant space surrounded by secondary schools, residences, retail and restaurants, the park will serve residents and visitors through 2016.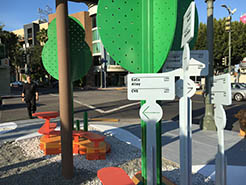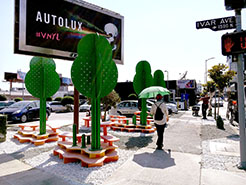 Interactive stations, including a photo booth, will invite input from participants at the opening event. Community members will be able to test different park amenities and contribute ideas on how public space could be improved throughout Hollywood.
Hollywood Pop! is unique in that it is situated on private property. Creating public space through partnerships with private property owners could transform the street scene for Hollywood and other communities.
Hollywood Pop! is funded by the Sunset & Vine Business Improvement District and designed by LA- Más, an urban-based L.A. non-profit that blends policy and architecture to create community impact. Dunn-Edwards provided the paint and Sunburst Rocks provided the gravel.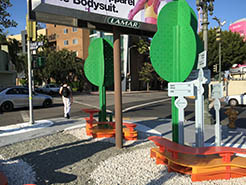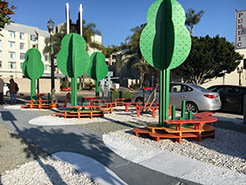 WHO:
Fabio Conti, president of the Central Hollywood Coalition Kerry Morrison, Sunset & Vine Business Improvement District
WHERE:
Southwest corner of Selma and Ivar, three blocks from the legendary intersection of Hollywood & Vine in Hollywood, California
WHEN:
Public launch event Friday, May 20, 2016, 5-8 p.m. (sweetgreen will be providing free food and drink tastings)
Hollywood Pop! will be open to the public through 2016
SOCIAL:
#OnlyInHollywood
ABOUT:
The Central Hollywood Coalition, the non-profit board that manages the Sunset & Vine Business Improvement District, funds streetscape beautification, street cleaning services, security program and homeless outreach in the area. Learn more about Hollywood at
www.OnlyInHollywood.org