L.A.'S UNION STATION
UNVEILS FIRST-EVER NIGHTTIME
SUMMER ENTERTAINMENT SCHEDULE
AT HISTORIC DOWNTOWN LANDMARK
Live Nation's Ones To Watch Under-The-Stars
Outdoor Concert Series
And Immersive, Starlit, Floating Sky Screen
Union Station 360° Cinematic Journey
To Headline Summer Programming at Historic Venue
(Los Angeles, CA, June 16, 2016) - DTLA's iconic Union Station will open its sweeping outdoor gardens on summer nights with a unique entertainment line-up featuring emerging bands at
Live Nation's Ones to Watch Summer Concert Series
, an innovative interactive cinematic experience Union Station 360° and the provocative art installation,
Cabinet Of Curiosities
.
The station is currently scheduling a rotating collection of unique events, cutting edge performances, evocative music, unprecedented art exhibitions and thought-provoking cultural programing that is completely redefining Union Station.
Ken Pratt, Metro's Director of Union Station Property Management said, "This is an important step for Union Station in that it introduces folks to this extraordinary public space and the beauty of one of Los Angeles' most iconic architectural properties while encouraging Angelenos to take the light rail, subways, Metrolink, Amtrak and Metro buses to the station and experience the ease and comfort of our growing mass transit system."
The historic Downtown landmark will kick-off its summer season with Live Nation's Ones To Watch & KROQ Locals Only Presents Summer Concerts At Union Station. The free concert series under the stars begins July 2 and runs Saturday nights through Labor Day weekend.
Each concert will feature two emerging artists and a popular DJ performing between 7:00 p.m. and 10:00 p.m. and will give music fans intimate access to the next generation of singers and musicians. Additionally, some of the city's most popular food trucks will be on site along with other creative culinary concepts.
Headlining opening night on July 2 will be Michael Leier, Bloodboy, Figs Vision, and DJ - Grant Owens performing in the station's verdant South Patio Garden.
Other emerging artists slated to perform include:
• July 9th – DYAN, The Brinks
• Aug 6th – Sam Fischer
• August 13th – Salt Petal
• August 20th – Lauv, Pretty Sister
Additional concert details and the line-up of performers are available at
unionstationla.com
.
Live Nation's Ones To Watch is dedicated to showcasing today's most talented new artists. "Using such a unique place as Union Station as a venue is a one-of-a-kind opportunity to connect these rising new performers with passionate downtown music fans," said Live Nation's concert and club COO Ben Weeden.
After the curtain rises on the Live Nation series, for nine days in July, the station's South Patio will be transformed into an evocative multi-media environment with the innovative cinematic experience Union Station 360° created by the noted local experiential design firm The Hettema Group.
The Hettema Group's projects include some of the world's most recognized interactive attractions ranging from the recently opened One World Observatory at the World Trade Center to Las Vegas' High Roller to Universal Studios Islands of Adventure to Jurassic Park The Ride.
Union Station's state-of-the-art, multi-sensory 360° experience will transport guests on an extraordinary interactive journey through the unique cultural fabric of L.A. with a series of imaginative vignettes exploring the city's storied past and vibrant present. The Hettema Group has teamed with filmmakers and digital artists to create original cinemagraphs that will be viewed, on a massive cutting-edge projection sphere and across a Floating Sky Screen, accompanied by a hypnotic original score.
The station's massive entry arches will become the backdrop to a 30-foot-high, projection mapped art and video installation that will respond to visitors' movements; and guests can move freely throughout the garden beneath the translucent Floating Sky Screen bathed in iconic Los Angeles imagery.
Union Station will be transformed into a towering canvas for dazzling imagery beamed on its façade as audiences become fully immersed in the Union Station 360° experience.
Union Station 360° is open and free to guests July 15 - July 24 from 8:00 p.m. to midnight (closed on Monday, July 18).
From August 6 – August 31 the station's Grand Waiting room will be home to the provocative art installation Cabinet of Curiosities. The trailblazing group exhibition of Los Angeles-based artists will feature a series of mysterious worlds that are viewed through peepholes.
Built in 1939 as a portal to the promise of the California dream, this architectural gem features soaring vaulted ceilings, towering brass windows, massive Art Deco chandeliers, hand-painted mission tiles and ornate stone floors. Union Station will evolve into a venue showcasing the diversity of entertainers, artists and innovators throughout Los Angeles.
In addition to its own emerging calendar of programing, events and activities, Union Station has become a gateway to the rebirth of Downtown's vibrant arts, entertainment and food scene and has emerged as a bridge to important cultural venues including The Broad, Walt Disney Concert Hall and the Museum of Contemporary Art.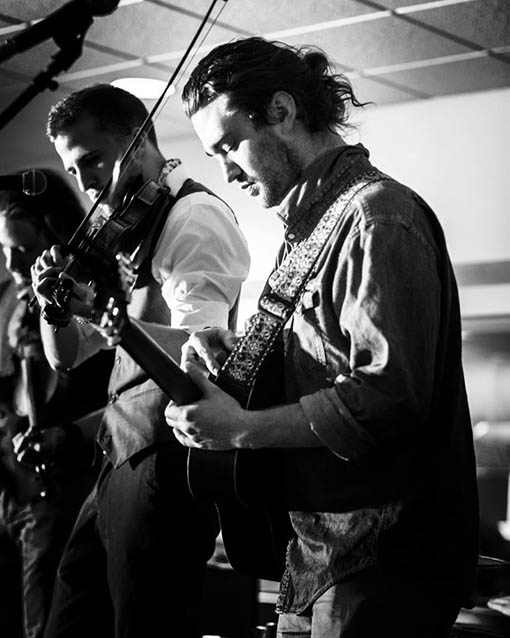 Michael Leier performs on July 2
About Union Station:
Built in 1939, Union Station is the largest railroad passenger terminal in the Western United States. Placed on the National Register of Historic Places in 1980, the station's signature Mission Moderne style makes it one of L.A.'s architectural gems. Today, the station has evolved into a vibrant transportation center serving 75,000 passengers daily. Union Station is currently in the first phase of a Master Plan that will enable it to better handle the growing number of transit riders, accommodate high-speed rail and serve as one of L.A.'s premier public spaces while protecting the historic core of the station. For more information, visit

unionstationla.com

. Connect with Union Station
on
Twittter
,
Facebook
and
Instagram
.
For map and location click

Here