CABINET OF CURIOSITIES UNVEILS MYSTERIOUS WORLDS
VIEWED THROUGH PEEPHOLES AT

DTLA'S HISTORIC UNION STATION

ORIGINAL INSTALLATION OF LA ARTISTS RUNS
AUGUST 6 – 31 WITH ARTIST RECEPTION AUGUST 7
(Los Angeles, CA, July 27, 2016) - DTLA's iconic Union Station unveils the Cabinet of Curiosities, an original installation of mysterious worlds viewed through peepholes, created by a group of Los Angeles-based artists. The exhibit will open to the public on August 6 and remain on display during station operating hours through August 31. A special reception with the artists, open to the public, will be held on Sunday, August 7 from 3 - 6pm.
Curated by Carl Berg, the exhibit showcases original works from artists Tanya Brodsky, David DiMichele, Ashley Hagen, Noel Korten, Keith Lord, Cecilia Miniucchi and Andre Yi.
Cabinet of Curiosities will feature a visual glimpse into the artists' world not on a grand scale but rather on a more personal level. Only one person can view the artworks in the exhibition at a time, giving the viewer his or her own intimate experience. It requires active participation by the viewer something often lost in a world of digital billboards, video screens at gas stations, and smart devices on which you can watch movies.
"We're delighted to bring this intriguing installation to our Grand Waiting Room," said Ken Pratt, Metro's Director of Union Station Property Management. "Our goal is to surprise and engage commuters, tourists and others traveling through the station with an unexpected and fanciful art experience."
"Cabinet of Curiosities" refers to a European practice from the 16th Century, also known as Kunstkabinett, Wunderkammer, Cabinets of Wonder, and wonder-rooms, which were encyclopedic collections of objects and were regarded as microcosms or theaters of the world and were a precursor to the first museums.
These unique worlds formed from an assemblage of objects and in many ways functioned as a library of these objects, not unlike computers and the Internet, by creating relationships between things.
The exhibition however is inherently not digital and the artworks created for this exhibition were mostly handmade by the artists themselves. A throw-back to an era were mystery was created by crafting objects that used visual phenomenon to trick the viewer into seeing something that is really not what is seems to be.
Cabinet of Curiosities is part of Union Station's first-ever summer entertainment series that spans unique events, thought provoking cultural programs and live music, free to the public throughout the summer season. For more information on Cabinet of Curiosities and summer programs at Union Station visit
unionstationla.com.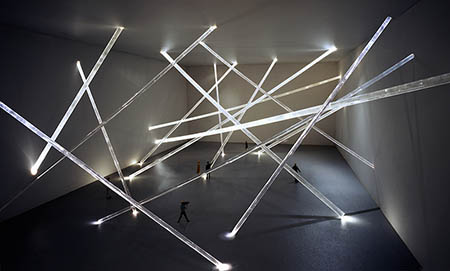 A Peak Inside Artist David DiMichele's Cabinet



About Union Station:
Built in 1939, Union Station is the largest railroad passenger terminal in the Western United States. Placed on the National Register of Historic Places in 1980, the station's signature Mission Moderne style makes it one of L.A.'s architectural gems. Today, the station has evolved into a vibrant transportation center serving 75,000 passengers daily. Union Station is currently in the first phase of a Master Plan that will enable it to better handle the growing number of transit riders, accommodate high-speed rail and serve as one of L.A.'s premier public spaces while protecting the historic core of the station. For more information, visit unionstationla.com. Connect with Union Station on Twittter, Facebook and Instagram.