Brew Ha Ha Productions Toasts 7 years at

Annual Brew Ha Ha Craft Beer Festival September 24

3rd Annual Brew Hee Haw at the OC Fair Raised over $12k for
Local Non-Profits with Record Breaking Attendance


[Silverado, Calif.] – Brew Ha Ha Productions and the OC Fair produced another stand out collaboration at this year's 3rd Annual Brew Hee Haw Craft Beer Round Up, with record-breaking attendance and over 100 stand out craft beers served. Following the successful Brew Hee Haw, the 7th annual Brew Ha Ha Craft Beer Festival will return to the beautiful Oak Canyon Private Ranch on Saturday, September 24. This year's festival will present over 90 craft breweries sampling more than 250 craft and import beers as the festival continues to reign as "Orange County's Favorite Beer Festival."
The 3rd annual Brew Hee Haw returned to opening weekend of the OC Fair with a new, larger location and an additional tasting session, attracting record-breaking attendees while raising over $12,000 for local charities like Big Brothers Big Sisters of Orange County and Inland Empire. In addition to over 80 different taps pooled from some of the best Southern California breweries and beyond, VIP attendees sampled seasonal and limited release beers including Greyhound Grapefruit IPA from Bottle Logic and Dusk Till Dawn Imperial Coffee Porter from Pizza Port San Clemente, Breaking Bud IPA from Knee Deep, Nom Nom Mango Hefeweizen from Barley Forge and more!
This year's 7th Annual Brew Ha Ha Craft Beer Festival will break their own record of the largest and best selection of craft beer in OC. This Award Winning craft beer experience will offer all of the elements that have repeatedly earned it the title of OC's Best Beer Festival from the OC Beer Society. Craft beer enthusiasts and 'seekers' will enjoy quality craft beer, gourmet food trucks and restaurant vendors, live music, and presentations by renowned beer experts including Anthony Chen: Lead Brewer and Brewing/Cellar Manager at AleSmith Brewing Co., and Jim Crooks: Masterblender at Firestone Walker Barrel Works.
The Brew Ha Ha Craft Beer Festival highlights the rapidly growing craft beer scene in Orange County, with unlimited tastings from an impressive list of breweries that includes AleSmith Brewing, Bottle Logic, Stone Brewing Co., Mikkeller Brewing SD, Firestone Walker, Portland Cider, Founders Brewing Co. and many more. While beer is center stage at this event, guests will also enjoy live entertainment from Groove Session and The Spazmatics and the always-anticipated Brew Ha Ha collaboration beer!
The 2016 collaboration will be brewed by two of Southern California's most exciting breweries, Bottle Logic out of Orange County and AleSmith Brewing Co. from San Diego. The collaboration will be available in Southern California in both bottles and on draft. Enthusiasts can sample the beer at the dedicated pouring station for it at the festival. Can't wait to sample? The collaboration beer will be available on shelves and in taprooms starting one week prior to Brew Ha Ha.
Returning to this year's event are crowd favorite games and hilarious exhibitors for guests to test their skills in friendly competitions. Attendees will also have the opportunity to relax in the Gray Cloud Cigar Lounge with cigar and beer pairing experts.
This year this iconic craft beer experience will be held the first weekend of fall, taking advantage of cooler temperatures and soft breezes at the beautiful Oak Canyon Private Ranch. Also new this year is a free shuttle service where attendees can get a ride out of the park to the Tustin area. With limited cell service at this location, Brew Ha Ha productions team encourages attendees to arrive to the event via a cab, Lyft, UBER, family or friend and take a shuttle out.
Tickets for the 7th annual Brew Ha Ha on September 24 are on sale now. Early Bird tickets sold out the day they went on sale. General admission tickets are $45 and VIP tickets are $60. Designated driver tickets are available for purchase upon entry and must be accompanied by a paid ticketholder.
OC Brew Ha Ha is a 21+, rain or shine event that kicks off at 12 p.m. for VIP guests and 1 p.m. for general admission guests. Taps close at 4 p.m. but the festival goes until 5:00 p.m. Staff members will gladly assist attendees with utilizing pre-ordered rides and FREE SHUTTLES to Tustin. Oak Canyon Ranch is located at 5305 E Santiago Canyon Road, Silverado, CA, 92676. For festival information visit
www.ocbrewhaha.com.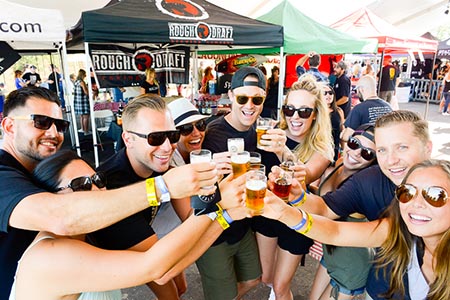 Brew Ha Ha Productions (BHHP)
is Orange County, California's largest and most successful craft beer centric event producer. Fueled by a desire to promote craft beer, along with visions of unique and different events, BHHP has enjoyed unprecedented growth in size and diversity of their annual events that now reaches beyond Orange County. A 'For-Profit' organization whose mission is to always give back, BHHP has worked with many worthy non-profits including: Big Brothers Big Sisters of Orange County and Inland Empire, Pediatric Cancer Research Foundation, OC Brewers Guild, Centennial Farm Foundation, Yellow Ribbon America, Mental Health Association of Orange County, South County Outreach, and the OC Fallen Firefighters Relief Fund. BHHP has raised awareness and over $100,000 for these organizations.
www.BrewHaHaProductions.com.
Big Brothers Big Sisters of Orange County and Inland Empire (BBBS)
believes that all children should have the opportunity to succeed in life and live up to their full potential. Big Brothers Big Sisters of Orange County & Inland Empire was founded in 1958 and is one of the national organization's top mentoring agencies in the country, serving more than 2,700 children each year. Their Purpose is for every child to have the opportunity to succeed in life and live up to their full potential. Their Mission is to provide strong and enduring, one-to-one, professionally supported mentoring relationships for every child who needs and wants one.
Their Vision is to change the life of a child for the better, forever.
https://www.ocbigs.org