FIFTH ANNUAL "SUNSET & DINE"
ANNOUNCED FOR SEPTEMBER 1
Food festival to feature more than a dozen Hollywood restaurants
and a live concert curated by Amoeba Records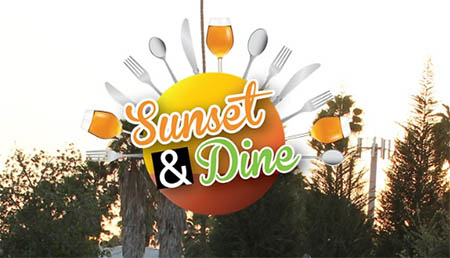 WHAT:
The fifth annual Sunset & Dine food festival will celebrate some of the eclectic and innovative culinary concepts taking root near the famed intersection of Sunset and Vine – from chef-driven restaurants to well-known favorites. Guests will enjoy bites, beer and wine, as well as entertainment curated by
Amoeba Music.
The event sold out in 2015.
Tickets, which include food, beverages and entertainment, are available for $35 (early bird rate of $30 if purchased before Aug. 5). Children under 12 attend the event free of charge. Proceeds benefit
The Center at Blessed Sacrament.
WHO:
List of participating restaurants (list continues to be updated):
•
Beso
•
Blue C Sushi
•
Cleo at the Redbury
•
Fabiolus Cucina
•
Greenleaf Gourmet Chopshop
•
ikabsa
•
McDonald's of Hollywood
•
The Melt
•
Paley Hollywood
•
The Pie Hole
•
Smoke's Poutinerie
•
Tinhorn Flats
•
Urban Masala
•
Wood & Vine
WHERE:
Blessed Sacrament, 6636 Selma Ave., Hollywood, Calif.
WHEN:
Thursday, Sept. 1, 2016, from 6-10 p.m.
MORE INFORMATION:
Visit
www.SunsetAndDine.org
for tickets and an up-to-date list of participating restaurants and performers
SOCIAL:
#SunsetAndDine
ABOUT:
The Central Hollywood Coalition, the non-profit board that manages the Sunset & Vine Business Improvement District, hosts Sunset & Dine to shine a spotlight on the vibrant creative community active in Hollywood.