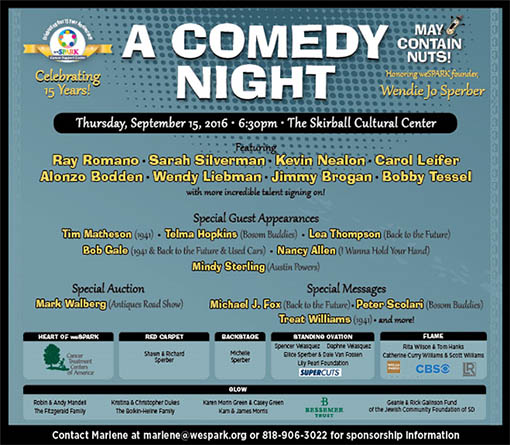 MAY CONTAIN NUTS!
A Comedy Night
Honoring weSPARK Founder Wendie Jo Sperber

Starring
Ray Romano, Sarah Silverman, Kevin Nealon, Carol Liefer,
Wendy Liebman, Alonzo Bodden and lots more…..
A night of comedy starring Sarah Silverman, Ray Romano, Kevin Nealon, Carol Liefer, Alonzo Bodden, Wendy Liebman, Jimmy Brogan, BobbyTessel and lots more with special appearances (and some big surprises!) by the likes of Tim Matheson, Telma Hopkins, Lea Thompson, Bob Gale, Nancy Allen, as well as an auction conducted by Mark Walberg. In celebration of the 15th anniversary of weSPARK Cancer Support Center and to honor the memory of its founder, actress/comedienne Wendie Jo Sperber, many of her former cast members of Bosom Buddies, 1941, Back to the Future and I Wanna Hold Your Hand are participating to honor her memory. weSPARK provides free services to cancer patients, survivors and their families and friends.
Skirball Cultural Center, 2701 N Sepulveda Blvd, Los Angeles.
Tickets are $200 with table sponsorships starting at $2,500. To purchase or for more information, visit
www.wespark.org
, call 818.906-3022 or email
Marlene@wespark.org
. weSPARK Cancer Support Center is a non-profit organization.
For map and location click

Here