Doma Kitchen Relocates To Marina Marketplace in Marina del Rey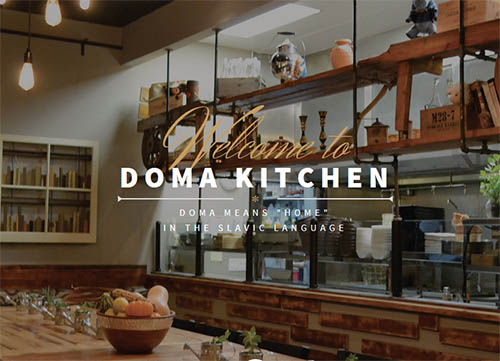 Manhattan Beach, CA
- It has only been two years since the inception of Doma Kitchen in Manhattan Beach, but the response has been overwhelming. The beach side community has fallen in love with Domas' European-inspired dishes including homemade Borscht, Lagman and Lamb Plov. After much success, Doma Kitchen is in need of a more accommodating space to meet the high demand. After months of searching, they have found a new "home" at
Marina Marketplace
in Marina del Rey. (Doma means "home" in the Slavic language.) What was once Panini Grill, will now transform into Doma Kitchen.
Owners Angie Corrente and Stan Mayzalis along with Chef Kristina Miksyte are excited about both expanding the restaurant's square footage as well as bringing their food to the Westside. "I'm really looking forward to sharing more of what we love with the people of Los Angeles. It is a bitter sweet goodbye as we love our South Bay community, but we know those who love Doma, will visit us in Marina del Rey." says Corrente. Corrente and Mayzalis may tweak the design of Doma, but the upscale-casual menu and cozy atmosphere won't change. "It will be exactly the same feel except everyone will be a lot more comfortable, we can host exclusive dinners with Chef Kristina and guest chefs, along with hosting private parties; something that guests have continued to ask us over and over." Corrente said.
Extra bonus: The new Doma Kitchen will also feature some additions to the menu, later hours, extended beverage menu and more to-go items.
Guests are invited to visit Doma Kitchen in Manhattan Beach,before September 11th for breakfast, lunch or dinner. Doma Kitchen is relocating this fall to Marina Marketplace at
4325 Glencoe Ave #8 in Marina del Rey CA, 90292
and will be opened for breakfast, lunch and dinner. An official opening date will be announced in the weeks to come.
ABOUT THE CHEF
Kristina Miksyte
Chef Kristina Miksyte, a Lithuanian native, received world-class European training from top professionals and left with a culinary degree. Specializing in modern cuisine, she has over 15 years of restaurant experience under her belt. Kristina wholeheartedly believes in the "farm to table" method of cooking with an emphasis on combining simple and healthy ingredients without compromising flavor. Born into a family of chefs, her upbringing prepared Kristina to freely combine authentic European flavors with local, healthy and contemporary dishes. At Doma Kitchen, Kristina utilizes her talent and creativity to create unique and exquisite dishes unlike anything in Southern California.
ABOUT THE FOUNDERS
Angelika Corrente
With over 25 years experience in lifestyle, fashion design and trend forecasting, Angie's background has enabled her to create a space that blends the culture of food and art which, to the community, has become the Doma Kitchen brand. As a South Bay local who is highly involved within the community, Angie understands the importance of health which is why the menu at Doma is highly comprised of local vegetables, house-made dressings and organic meats and cheeses. With Doma, she brings a unique dining experience that reflects international influences with an emphasis on healthy eating as well as a visible connection between food, art and fashion. The design of Doma Kitchen comes from Angie's fashion background and her connection with local artists who provide art installations for an added dining experience.
Stanislav Mayzalis
Stanislav Mayzalis is an experienced builder and business owner with a background in Eco friendly construction. He has the gift to inspire and build almost anything and anyone. Above and beyond being a general contractor, Stan has a passion for food and the restaurant industry. His true love of food lies in Central Asian and International cuisine which can be seen throughout the menu at Doma Kitchen. With his construction and design background, Stan created the foundation of Doma which includes handmade furniture, lighting and accessories.
About Doma Kitchen
Doma Kitchen offers an international-inspired cuisine with an emphasis on Eastern European and Central Asian techniques. Owners Angie Corrente and Stan Mayzalis have taken inspiration from their many world travels and created a menu with Chef Kristina Miksyte that reflects the exciting cuisine found in regions throughout the globe. All dishes are prepared from scratch and are seasoned to perfection with housemaid spices, placing the highest importance on farmer market fresh, seasonal and quality ingredients. With their design background, both owners have created an environment unlike any other in the area.
Doma Kitchen is relocating this fall to Marina Marketplace at
4325 Glencoe Ave #8 in Marina del Rey CA, 90292
and will be opened for breakfast, lunch and dinner.
www.DomaKitchenCafe.com