ScotsFestival & International Highland Games XXIX
Celebrates The Queen Mary's Heritage Feb. 18-19
Experience Scottish History with Traditional Highland Athletics & Dancing,
Live Entertainment, Authentic Cuisine and Whisky & Beer Tastings
Festival Tickets On Sale December 15 at

QueenMary.com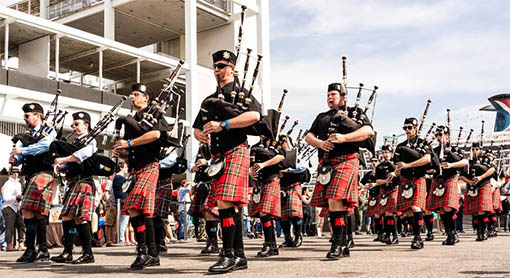 ​ LONG BEACH, Calif., (December 14, 2016) – The Queen Mary is pleased to welcome back the annual ScotsFestival & International Highland Games XXIX February 18-19, 2017 from 9AM-6PM. Experience the rich culture and history of Scotland first hand through an array of authentic activities, athletics, dancing, entertainment and cuisine all in ode to the Queen Mary's Scottish legacy.
Eighty-seven years ago, in the quaint seaside town of Clydebank, Scotland, construction on the Queen Mary began. Exemplifying the finest craftsmanship of the country, the Queen Mary's legacy is undeniable and today the ship's heritage is celebrated through the two-day ScotsFestival honoring Scottish culture.
ScotsFestival honors nearly fifty Scottish clans & vendors throughout the weekend with professional and amateur competitions in drumming, massed bands, darts, piping, Highland dancing, and Highland athletics. The Scottish Highland Games, a pre-cursor to today's Olympic Games, were designed to test the strength, skill and technique of ancient warriors by face offs.
The official opening ceremonies for the Queen Mary's ScotsFestival begin with the traditional Grand Parade of Clans & Bands with an Address to the Haggis on the Parade Platform. Daily festivities include Border Collie sheep-herding, firing demonstrations, performances by the Royal Scots Greys Calvary, LA and OC Royal Scottish Country Dance Society, Celtic Harp Workshops, Story Songs by Wren of Iniquity Ensemble and many more historic reenactments.
One of the most popular competitions at ScotsFestival each year is the traditional pipe bands featuring a wide range of piping competitions, including solo, ensemble and pipe band ensemble. Crowds will gather to watch the pipe bands march together in absolute unison while playing traditional Scottish favorites likes, "Scotland the Brave" and "Amazing Grace."
The Queen Mary's ScotsFestival hosts World Champion Scottish Highland Dancers and many internationally acclaimed athletes competing for titles in stones, hammer throw, weights for distance, weight over bar, sheaf and the famed caber toss.
Whisky tasting sessions with aged malt experts and craft beer samplings are available for adult festival goers inside the spruce goose dome. While the wee laddies and lassies can bear witness to Queen Mary's knighting and coronation ceremonies, and even take part in the Wee Highland games including youth competitions in archery, potato sack races and tug o' war.
Tickets to ScotsFestival are on sale December 15, 2016 and start at $10 online for ages 4-11 and $19 online for guests 12 and over. VIP tickets, upgrades, ticket add-ons, two-day festival passes and hotel packages will also be available. Visit
http://queenmary.com/events/scotsfestival
for more details and to purchase tickets online.
About the Queen Mary
Located in the Port of Long Beach, the Queen Mary features a rich maritime history, authentic Art Deco décor, and stunning views of the Pacific Ocean and Long Beach city skyline. At the time of her maiden voyage in May of 1936, she was considered the grandest ocean liner ever built. The Queen Mary's signature restaurants include the award-winning Sir Winston's and Chelsea Chowder House & Bar as well as a weekly Champagne Sunday Brunch served in the ship's Grand Salon. History buffs enjoy the ship's museum and Glory Days tour, guests of all ages love the Ghosts and Legends show, and the ship is currently featuring the renowned Diana: Legacy of a Princess exhibit and Tea Room. The Queen Mary features 80,000 square feet of event space in 17 remarkable Art Deco salons as well as a tri-level, 45,000-square-foot Exhibit Hall. The Queen Mary boasts 314 staterooms including nine full suites. For more information or for reservations, see www.queenmary.com or call (800) 437-2934 . The Queen Mary is located at 1126 Queens Highway in Long Beach.
For map and location click

Here