CATALINA EXPRESS INVITES PASSENGERS TO SHARE
THEIR BIRTHDAY ON CATALINA ISLAND
New Birthday Promotion Includes Two for the Price of One Round-trip
Travel and New Birthday Island Offers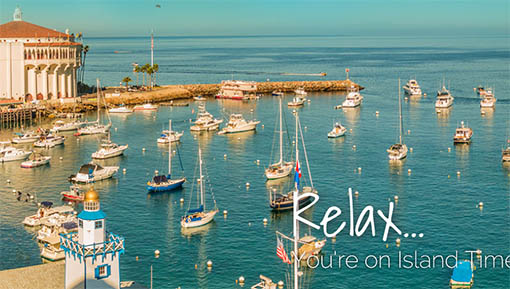 SAN PEDRO, Calif. (January 12, 2017)
–Catalina Express announced today its new birthday promotion program. Two passengers can ride for the price of one full fare Adult ticket when traveling together round-trip, starting travel on a passenger's actual birthday. More than 25 million passengers have ridden Catalina Express since its inception in 1981, more than 350,000 people have ridden free on their birthday since the program started in 2011, and of those, more than 90 percent of previous birthday passengers have ridden to the island with at least one other passenger.
Greg Bombard, president of Catalina Express, notes, "A healthy percentage of our birthday passengers or their guests are visiting the island for the first time so we are delighted that birthday passengers can continue to save money and celebrate their special day while sharing the island with friends and family who have never visited."
Catalina Express passengers can travel to Catalina on their birthdays, effective now through December 31, 2017, subject to availability. The offer is good for travel from all of Catalina Express' mainland or island ports saving the birthday passengers up to $75.50 round trip.
Travel must begin on the passenger's actual birthday, subject to availability, and the return trip must be completed within 30 days. Interested birthday passengers need to pre-register online at CatalinaExpress.com. The registrant will then receive a birthday code and can make the boat reservation online, or by calling 800.995.4386 and providing the Birthday Pass coupon code unique to the passenger. In order to make a reservation, registrants must purchase at least one Adult full fare ticket and travel together round-trip. Birthda y celebrants need to presen t both the Birthday Pass and valid photo ID to the Catalina Express ticket window at time of check-in. Birthday celebrants must be 13 years or older to register online. If a registrant is under the age of 13, an adult 18 or over must register for the party. When making a birthday reservation, reservations must be made for a minimum of two adults. Should the birthday passenger or their travel companion be a Senior, Child, or Infant, the reservations must be made for two full fare Adult tickets to participate in the Birthday Promotion
Birthday Island
, also a popular program for birthday celebrants, has been completely revamped with all new offers worth hundreds of dollars in savings and value, including Catalina restaurants, attractions and hotels with nearly 50 deals, discounts and freebies.
Passengers can download a Birthday Island PDF from the Catalina Express website while registering and are given updated information at their ticket window.
A sampling of Birthday Island offers includes:
AVALON HOTEL
Stay at the Avalon Hotel on your birthday and receive a
complimentary bottle of wine or sparkling cider. Receive a
15% discount for your birthday stay
(can't be combined with any other discounts).
Must mention birthday when booking
over the phone or use code: birthday15 when booking
online. ID required at check-in.
310.510.7070 •
TheAvalonHotel.com
THE AURORA HOTEL
Stay at the Aurora Hotel and Spa on Catalina on your
birthday and receive two complimentary tickets to the
Catalina Island Museum. Visit the Aurora Hotel and Spa on
your birthday and receive a complimentary gift.
310.510.0454 •
AuroraCatalina.com
CATALINA ISLAND INN
Receive a complimentary box of Lloyd's of Avalon chocolates
plus your choice of champagne or sparkling cider. Must ask
for the "BIRTHDAY SPECIAL" at the time of reservation
and present ID with proof of birth date at check-in.
310.510.1623 •
CatalinaIslandInn.com
HOTEL VISTA DEL MAR
Stay at Hotel Vista Del Mar and receive a complimentary
bottle of champagne or wine on your birthday, celebratory
balloons, continental breakfast, milk & cookies each evening,
10% off at Avalon's best retail stores and a complimentary
gift! Must mention "Birthday Special" at the time of
reservation. Proof of birth date required at check-in.
310.510.1452 •
Hotel-VistaDelMar.com
CATALINA POTTERY BATH & BODY
- Soy Candle or Handmade soap
Receive a complimentary soy candle or handmade soap
with each $10 minimum purchase per person.
310.510.1937 •
CatalinaPotteryBathBody.com
ISLAND THREADZ
- Complimentary Gift & Discounts
What better way to celebrate your birthday than with a
complimentary gift with a purchase and a 10% discount on
all regular priced merchandise.
310.510.2433
THREE PALMS AVALON ARCADE
- Arcade Tokens
Birthday Special
Have some fun and play a little! Buy $5 in tokens and get
an additional $5 in tokens as our Birthday Special!
310.510.0967 •
ThreePalmsAvalonArcade.com>
CATALINA ISLAND CONSERVANCY
- 3 Gifts
Stop by the Conservancy House on your birthday for a
complimentary Catalina Island Conservancy decal.
Complimentary admission to the Wrigley Memorial &
Botanic Garden on your birthday and BOGO on the
Wildlands Express on your birthday. Must travel at least
one direction on your birthday. Reservations required.
310.510.1445 •
CatalinaConservancy.org
CLIMBING WALL
- 2 for 1 Climb
Purchase one climb at the Catalina Climbing Wall and
receive an additional climb complimentary on your
birthday. Open weekends and holidays only.
310.510.7431 •
VisitCatalinaIsland.com
DESCANSO BEACH OCEAN SPORTS
- Rental Deal
Rent 1 hour kayak, snorkel equipment or SUP and receive
a 2nd hour complimentary - good for you and one buddy!
Proof of your birth date necessary. No reservation needed,
subject to availability.
310.510.1226 •
KayakCatalinaIsland.com
CATALINA ISLAND GOLF CART
- Golf Cart & Bike Rentals
Buy one hour, get 1/2 hr complimentary. Experience
Catalina's charm in your own golf cart! Complimentary
1 hour bike rental with a one hour rental or 1/2 off a daily
rental. Must show proof of birth date!
310.510.0369 •
CatalinaIslandGolfCart.com
PARASAIL CATALINA
- Free Parasailing Flight
2 fly for the price of 1 with paid 800' flight, must fly
tandem or triple on your birthday. Subject to availability.
Please reserve online and use the promo code "birthday".
Must show proof of birth date.
310.510.1777 •
ParasailCatalina.com
CATALINA SEGWAY
- Rental Deal
Buy any Segway Tour get 2nd of equal or lesser value 1/2
off. Reservations required, must show proof of birth date.
310.510.9665 •
CatalinaSegways.com
TASTE OF CATALINA FOOD TOURS
- Birthday Special
All adult tickets in your party are 20% off ! Use promo
code: BDAY20. Tours run daily at noon. Call or book
online. Birth date confirmed at check-in with valid ID.
424.226.9443 •
CatalinaFoodTours.com
BEN'S BAKERY
- 1/2 Off Lunch
Buy one lunch time sandwich or salad and receive 1/2 off
a second sandwich or salad for the birthday traveler.
Ben's Bakery is conveniently located in Shops at the
Atwater on Sumner and Metropole Avenues. Must show
ID for proof of birth date.
310.510.7414 •
VisitCatalinaIsland.com
CATALINA COFFEE & COOKIE CO.
Complimentary Coffee or Tea
One complimentary cup of 12oz gourmet coffee or tea for
the birthday person. (
$3 value, no substitutions).
Must be wearing the Catalina Express birthday button and provide
an email address. May be required to show ID.
310.510.2447 •
CatCookieCo.com
About Catalina Island and Catalina Express
Located 22 miles off the coast of Southern California, Catalina Island is accessible by boat from three ports via Catalina Express: San Pedro, Long Beach and Dana Point. Catalina Express offers up to 30 daily departures and year-round service to Avalon and Two Harbors, transporting nearly one million passengers annually. It offers comfortable airline-style seats and grouped table seating. Traveling to Catalina Island in as little as one hour, each vessel was designed and built/purchased specifically for comfort and speed. Catalina Express is an unparalleled resource in Southern California, and one of the world's most respected ferry fleets. For information and reservations, call 800-429-4601, or visit
Catalina Express
.
Catalina Island's
clear blue waters and Mediterranean climate and ambiance are a Shangri-La. This laid-back island town is chock full of places to eat, drink, shop. Catalina has a wealth of natural and cultural resources, unique animals and plants found nowhere else on earth. Sightseeing opportunities are numerous and varied from escorted tours around town, adventure rides into the interior, jeep eco tours, hummer rides, to zip lines, rock climbing and undersea adventures. Independent activities are plentiful, camping, hiking, snub, diving, snorkeling, kayaking, spa treatments, beach lounging, golf, motor boating, parasailing, fishing, boat rides down the coastline and more.