The Queen Mary's 2nd Annual FantaSea: Where Magic Lives
April 8 Close-Up Magic, Strolling Magicians,
Magic Mixology, Live Performances, and

More Aboard the Majestic Queen Mary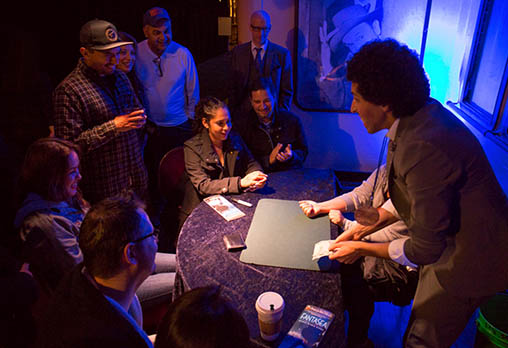 WHAT:
The mysterious world of magic will once again cast its spell upon The Queen Mary at the 2nd annual FantaSea Saturday, April 8, from 12 – 6 p.m. The glory of The Queen Mary and the mystique of the Academy of Magical Arts, and their World-Famous Clubhouse - The Magic Castle, will converge to create another captivating day of show-stopping performances and sleight-of-hand tricks.
ACTIVITIES:
• Mysteries of Magic Dinner Show
- Unforgettable show of magic and mystery with an elegant, chef-prepared 4-course dinner along with thrilling acts by master magicians, Kyle and Mistie Knight at 7pm. (All ages)
• Night of Illusion Show
– Jaw-dropping performances from Master Illusionists who will mystify all in an unforgettable evening starring World Famous, award-winning, celebrity magicians. Showings at 6:30 p.m. and 11 p.m. (All ages, Includes two drink tickets)
• Mind Reading Mentalist Show
- Bewilder and mystify the senses with a one-of-a-kind mind reading in the Mentalist Show with Max Maven at 9 p.m. (All ages, Includes two drink tickets)
• Magic Mixology
- Let your senses bubble over with eccentric libations during this intoxicating experience. Learn how to mix key specialty drinks all with a sense of illusion and magical flair. 21+ only.
• Hocus Pocus Parlour
– For unbelievable parlour shows
• The Enchanted Corridor
– Saunter through the great hall of wonder where magic abounds a nitrogen ice cream bar, shop for magical oddities, and grab a snack at Mystic Morsels or a drink at the Now You See Me Bar.
• Wizard Alley & Platform
– Venture into the "alley" to partake in fun kids shows on The Wizarding Platform featuring Funny Eddie!
• The Secret Circle Study
– Gather in The Secret Circle for some close-up illusions merely inches away from you!
• Haunted Encounters Tour
- A haunted history tour like no other, lead by a trained paranormal guide. Explore the Queen Mary's most notorious paranormal hot spots and hear chilling tails of the ship's haunted past. What better place for such walks than The Queen Mary, voted top 10 most haunted places by Time Magazine.
• Abracadabra Brunch Buffet
– A special charmed version of the Queen Mary's Signature Brunch in a more intimate setting with added twists and extra helpings of magic. Sunday, April 9 (9:30 a.m. – 2 p.m.)
WHEN:
•
Saturday, April 8, 12 p.m. to 6 p.m.
•
Evening shows/activities begin at 6:30 p.m. Please visit
queenmary.com
for evening show times and pricing.
WHERE:
The Queen Mary, 1126 Queens Hwy, Long Beach, CA 90802
TICKETS:
•
Adult general admission $29, Child $15
•
Mysteries of Magic Dinner Show $99
•
Mind Reading Mentalist Show $49, includes (2) drink tickets
•
Night of Illusions Show $49, includes (2) drink tickets
•
Magic Mixology $29
•
Haunted Encounters $19
•
Abracadabra Brunch Adult $78.95, Child $33.95 (Sunday, April 9)
PARKING:
Posted daily rate upon exit
PURCHASE TICKETS AND INFORMATION:
http://queenmary.com/events/fantasea/
About the Queen Mary
Located in the Port of Long Beach, the Queen Mary features a rich maritime history, authentic Art Deco décor, and stunning views of the Pacific Ocean and Long Beach city skyline. At the time of her maiden voyage in May of 1936, she was considered the grandest ocean liner ever built. The Queen Mary's signature restaurants include Chelsea Chowder House, Observatory Bar, as well as, a weekly Champagne Sunday Brunch served in the ship's Grand Salon. History buffs enjoy the ship's museum with various daily tours, and currently the ship is featuring the renowned Diana: Legacy of a Princess exhibit. The Queen Mary features 80,000 square feet of event space in 17 remarkable Art Deco salons as well as a tri-level, 45,000-square- foot Exhibit Hall. The Queen Mary boasts 346 staterooms including nine full suites. For more information or for reservations, see
queenmary.com
or call (800) 437-2934. The Queen Mary is located at 1126 Queens Highway in Long Beach.
For map and location click

Here