Beer Fest for Beer Geeks Presents:
The Rarest Experience on July 1 in Hollywood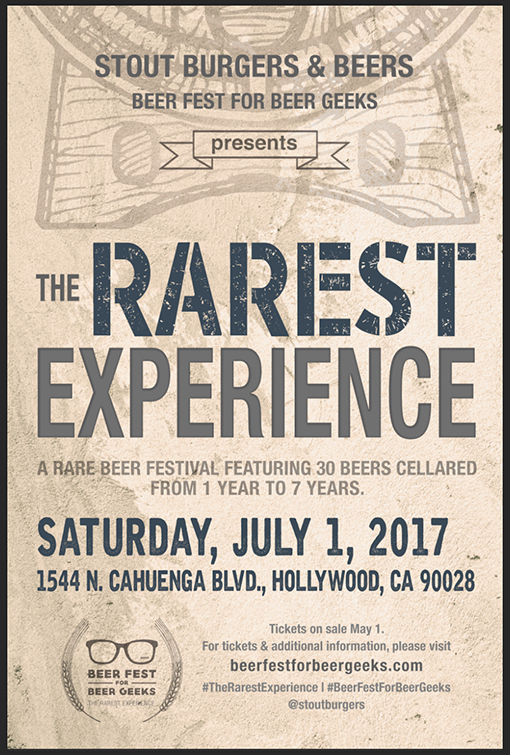 LOS ANGELES, CA — Beer Fest for Beer Geeks, brought to you by Stout Burgers & Beers, is excited to announce The Rarest Experience beer festival taking place on Saturday, July 1, 2017 in Hollywood. The outdoor festival features 30 extremely rare beers collected and cellared by Stout Burgers over the years, many of which are no longer available to purchase in the US. These beers are the best of the best, the rarest of the rare and on the bucket lists of every beer aficionado.
Notable beers on the
taplist
include a 2010 XIV Anniversary blend from Firestone Walker, a 2013 Wild Brainless on Peaches from Epic, a 2014 Deliverance from Lost Abbey, a 2013 120 Minute IPA from Dogfish
Head, two 2015 Wild & Funky blends no longer available in the US, a 2011 Affligem Noel from Brouwerij Affligem… and more!
Tickets go on sale on May 1, 2017 at 9:00 am. VIP tickets are $60 and gets ticket holders early entrance at 1:00 pm. Regular admission tickets are $40 with access to the festival at 2:00 pm. All ticket holders receive unlimited pours - while supplies last.
In addition, guests will enjoy outdoor games and music and freshly grilled sliders.
Tickets can be purchased at
http://bit.ly/RarestExp2017
Links:
Website:
http://bit.ly/RarestTaplist
Confirmed Breweries:
Firestone Walker, Stone Brewing, Allagash Brewing, Uinta Brewing, The Bruery, Anderson Valley Brewing Company, High Water Brewing, Tahoe Mountain Brewing, Breckenridge Brewery, Hanger 24, Drakes Brewing, BOM Brewery, Dogfish Head Brewery, Joseph James Brewing, Lost Abbey, Epic Brewing, Brouwerij Affligem, Huyghe Brewery, Het Anker, Dubuisson Brewery, Brasserie d'Achouffe, Jolly Pumpkin Beer
Location: Stout Burgers & Beers | 1544 N Cahuenga Boulevard, Los Angeles, CA 90028