SAXOPHONIST KENNY G TO PERFORM AT 31st ANNUAL
"HONDA EVENING UNDER THE STARS"
GOURMET FOOD & WINE FESTIVAL
Event Proceeds Will Benefit Torrance Memorial Pediatrics
and Vistas for Children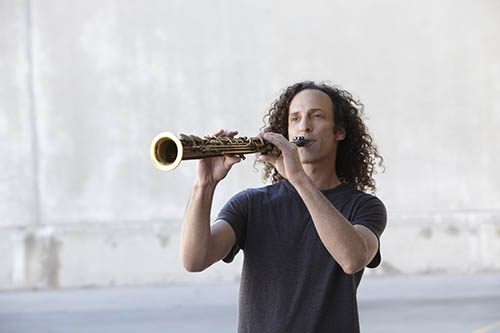 TORRANCE, CA, July 19, 2017
– World-renowned saxophonist Kenny G will serenade a summer night audience at the 31st annual "Honda Evening Under the Stars" Gourmet Food & Wine Festival on Saturday, August 26, 2017, from 6 to 9:30 pm at American Honda's campus in Torrance, Calif.. Presented in partnership with the Torrance Area Chamber of Commerce, this year's event will support the health care of South Bay kids, with proceeds benefiting Torrance Memorial Pediatrics and Vistas for Children.
"Honda Evening Under the Stars celebrates the friendship between the community and local business," said Steve Morikawa, vice president, Corporate Relations & Social Responsibility, American Honda Motor Co., Inc. Honda is proud to join our friends and partners in supporting the health and wellbeing of our children."
This year's proceeds will benefit the renovation of Torrance Memorial Medical Center's North Patient Tower, which will house new Pediatric, Neonatal Intensive Care and Mother/Baby Units.
"We are so grateful that American Honda has once again selected Torrance Memorial Medical Center to benefit from this longstanding community tradition," Laura Schenasi, executive vice president, Torrance Memorial Foundation, said. "The proceeds from this magical evening will advance our fundraising goals toward renovation of the North Patient Tower, which will serve the needs of mothers, babies and children in our community."
This year, the event will also support Vistas for Children, Inc., a respected philanthropic organization comprised of women volunteers from the South Bay. Vistas' mission is to raise funds for charities that help special needs children and to be a system of support for these children and their families. Vistas has donated more than $7 million to children in need in our community.
"Vistas for Children is thrilled to be selected by American Honda as a community recipient of funds raised from this wonderful 'Honda Evening Under the Stars' event. The funds received will support Vistas' mission of granting funds to 20 different charitable organizations that help special needs children and their families in the South Bay area," Vistas' President Cindy Percz said.
To date, the following restaurants and beverage partners will be offering their fare and tastings at the festival:
Restaurants and Beverage Partners:
• 21 Square Bar + Kitchen -Torrance Marriot Redondo Beach
• BENIHANA
• Bettolino Kitchen
• Boisset Wine Collection
• brio coastal bar & kitchen
• Depot
• Disneyland Resort
• Doubletree by Hilton Torrance-South Bay
• Essentia Water
• Honda Café - Sodexo
• Honda Classic/PGA Tour Professional Wines
• IL Fornaio
• Ise Shima
• Island Eats Hale A'ina
• Jackson's Food + Drink
• Kincaid's
• Nothing Bundt Cakes
• Ortega 120
• Paul Martin's American Grill
• Plough / Wooden Valley Winery
• Red Car Brewery & Restaurant
• Riboli Family Wine Estates
• Rock & Brews Redondo Beach
• Rolling Hills Country Club
• Sausal
• Sushi Chef Institute
• The Strand House
In addition to the very best in South Bay cuisine, approximately 80 varietals of wine will be served. Professional sommeliers from The Disneyland Resort will be on hand to educate guests about wine.
As part of the event's festivities, guests will have the opportunity to participate in a live and silent auction for exclusive items and experiences, including entertainment packages, sporting events and memorabilia, dining, travel, local outings and specialty items. Examples include an exclusive and limited wine package featuring Screaming Eagle, Opus One and Silver Oak; a luxurious TravelStore Canadian Rockies vacation; unique Indianapolis 500 experience; exclusive Disney private dining experience; tickets to the Los Angeles showing of the hit musical "Hamilton;" and a "PGA Tour Experience" package, which includes an opportunity to play the championship course at Palm Beach Gardens, Fla..
American Honda created the Gourmet Food & Wine Festival in partnership with the Torrance Area Chamber of Commerce in 1987 as a way to bring corporate business, residents, and local commerce together with city officials for a relaxing community celebration.
Through Honda Evening Under the Stars, Honda and the festival's restaurant and beverage partners have raised millions of dollars and demonstrated a long-standing commitment to bettering the healthcare and support provided to children in the South Bay.
Tickets are $200 per person and $300 per pair (until July 31). Table sponsorships are offered at a Platinum level for $15,000 (sold out), Gold level for $10,000, and Silver level for $5,000. To purchase tickets, access an up-to-date list of participating restaurants, entertainment details and other event information, visit the festival's Facebook page at
www.facebook.com/eveningunderthestars
.
About Torrance Memorial Medical Center
Founded in 1925 by Jared Sidney and Helena Childs Torrance, Torrance Memorial Medical Center is a 470-bed, nonprofit medical center established to provide quality healthcare services predominantly to the residents of the South Bay, Peninsula and Harbor communities. Torrance Memorial seeks to offer the most current and effective medical technologies rendered in a compassionate, caring manner. In 2012, it joined the ranks of the top hospitals in the nation by earning coveted Magnet® recognition from the American Nurses Credentialing Center, which recognizes nursing excellence. Torrance Memorial also has been ranked as one of the best hospitals for 2016-17 in California and the Los Angeles metro area for the fifth year straight by U.S. News & World Report. For more information, please visit:
www.TorranceMemorial.org
.
About Vistas for Children
Vistas for Children, Inc., is a distinguished philanthropic organization comprised of a 100 percent volunteer group of women from the greater South Bay area. Since our inception in 1978, the hallmark of Vistas has been its unconditional commitment to children. This includes, but is not limited to, children who are multi-disabled, abused, homeless, terminally ill, suffer from pediatric illnesses, or born with retinoblastoma (cancer of the eye). To put it succinctly, Vistas for Children wants to be there for children who are in need through no fault of their own. For further information, please visit
www.vistasforchildren.org
.
About American Honda
Honda seeks to be a company that society wants to exist, creating products and technologies that improve the lives of people while minimizing the environmental impacts of its products and business operations to ensure a sustainable future for society. Honda is also committed to making positive contributions to the communities where we do business, to socially responsible business practices and to the promotion of diversity in our workforce. From our involvement in STEM education and Historically Black Colleges and Universities (HBCUs) to our support of pediatric brain tumor research, and support of volunteer efforts by Honda associates, including environmental clean-up activities, Honda believes in giving back to the communities where we live and work. Find out more at
csr.honda.com
.
For map and location click

Here!