LOS ANGELES MODERNISM SHOW
MAY 5-7, 2006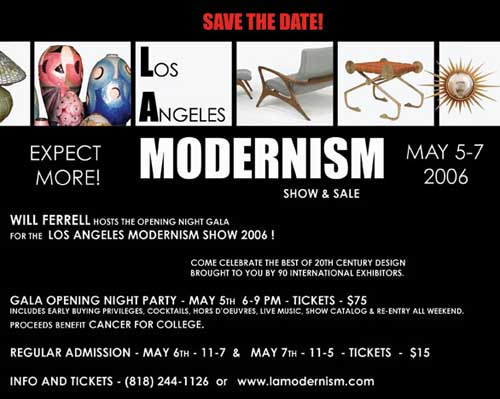 "IF MODERNISM WERE A RELIGION,
DENNIS BOSES WOULD BE THE NEW POPE"
LA TIMES – DAVID KEEPS



(March 8th, 2006, Los Angeles, CA)
The Los Angeles Modernism Show is where real collecting begins - from affordable 20th century designs at $30 a piece to museum-quality treasures valued up to $300,000. This year's show, hosted by actor Will Ferrell, opens Friday May 5th with a Gala Opening Night Party, promising a not to be missed, power-shopping trip for the hottest, vintage 20th Century Art & Décor on the West coast.
Comments Will Ferrell, host for this year's Gala, "I'm very excited to be a part of the LA Modernism Show. I've always loved modern and contemporary furniture and art because it's so modern and contemporary. I promise not to break anything." Will has chosen Cancer For College to receive proceeds from the Opening Night Party. Their mission is to provide hope and inspiration to those who have battled cancer. Cancer for College awards college scholarships to current and former cancer patients (please see www.cancerforcollege.org).
A record-breaking 90 leading, international dealers will exhibit their prime finds in modern furniture, art and decorative objects, c. 1900 to 1980, to a stylish audience of tastemakers and style-setters from the motion picture, television and music industries, celebrities & VIP's as well as top collectors, enthusiasts of modern design and interior designers.
"In this new world of push button information and entertainment, what is missing is 'spectacle'. We have brought the spectacle back to the show, Hollywood-style. That's why LA Modernism is still on fire", says LA Modernism Show's owner and promoter Dennis Boses.
True to his word, Dennis and his wife Lisa Boses, the owners for over 25 years of the world famous Off the Wall Antiques on Melrose Ave, took over production of the LA Modernism Show, which had been in existence for 16 years for the first time in 2004 and will bring some rare and astounding 20th century design gems.
The entrance way promises an alluring spectacle, at this moment a secret, but always a highlight of the show. Watch this space. Last year's 2005 Los Angeles Modernism Show amazed attendees with an outstanding exhibition of Buck Rogers Rocket Cars by artist Baron Margo along with a rare gazebo by Frank Gehry and a pair of 1400 lb Gladding McBean Arch Angels from the Atlantic Richfield skyscraper Downtown L A c. 1928.
Among other notable pieces, Off The Wall Aniques will be showing an extremely rare and soughtafter selection of c.1935 Mauser (best known for its firearms) Steel Desks from Germany. Aeonflux, recently filmed in Berlin, features Charlize Theron fighting around a Mauser desk.
The centerpiece for this year's show is a unique full scale kiosk designed by the whimsical Charles and Ray Eames and recently rediscovered from the 1964 Worlds Fair. Raising over 10 feet high, the colorful kiosk has all of the elements of the playful Eames'; brightly colored flags, hand painted panels and beautifully designed supports. Conceived at the height of the Eames' career for the IBM Pavillion, this Kiosk had been considered lost for many years. In cooperation with the LA Modernism show, Los Angeles Modern Auctions will be displaying this important Eames object as the centerpiece for the show prior to it being offered for auction on May 21st.
New and international dealers have fought to join the 2006 show and among others include The Silver Fund from London with the most comprehensive collection of vintage Georg Jensen silver, Jacksons Stockhom from Sweden with a stunning 20 th century design inventory, Mathieu-Malot with 20th century design from France and The Rayne Gallery from Cincinnati, of The Antiques Road Show appraisal fame, with their specialist Art Nouveau and Tiffany collections.
The Opening Night Gala Party combines cool sounds from Combolux with fine food by Charlie Scola and cocktails by Pravda. Gifts provided by design patrons such as Eames Office, Design Within Reach and Sollo-Rago will be offered to every guest.
This year's show takes place May 5th – 7th at the Santa Monica Civic Auditorium, located off 4th Street on the Corner of Pico & Main Street, in Santa Monica.
The Gala Opening Night Party takes place Friday, May 5th from 6-9 p.m.
The ticket price is $75 with proceeds benefitting Will Ferrell's chosen charity, Cancer for College. The evening will feature fine food, cocktails, music, show catalog and most importantly, the first window to buy fine quality vintage pieces, often saved by the exhibitors for this once a year event.
Tickets may be purchased on-line at www.lamodernism.com.
General Admission Show hours:
Saturday, May 6th from 11 a.m. to 7 p.m.
Sunday, May 7th from 11 a.m. to 5 p.m.
$15 ticket price includes admission for the run of the show and includes the magazine quality, 2006 show catalog.
For further information, press invitations to the Opening Night Gala and images, please contact Lisa Boses at 818-244-1126 or lboses@lamodernism.com and Lyn Winter at 323-788-4551 or lyn@lynwinter.com

For map and location click Here!

For more information please visit their website at www.lamodernism.com